Shopify is one of the best eCommerce website builders with a large number of third-party apps available that includes companies like Tesla banking on it. However, as a business owner, you undoubtedly want more customers, and Google Shopping Ads are a dependable way to do it. It's infuriating to lose money unnecessarily in any business. Despite this, many businesses waste money each month by failing to optimize their Google Shopping ads and feeds.
Uploading your products via a feed rather than individually will save you a significant amount of time and effort. It enables you to perform bulk optimization and adjustments. We'll walk you through three alternative ways to upload your feed, based on your needs and the type of stream you have.
Why Should You Think About Google Shopping in the First Place?
Almost every buying activity begins with an internet search on Google and that's exactly why you need to position your Shopify store there. Some buyers use Google to start the buying process by looking for a product/solution, while others use Google to compare prices and decide where to finally make their purchase. To put it another way, advertising your products on Google puts you right in front of your potential buyers.
How to Make a Google Shopping Feed for Your Shopify Store
To execute successful Shopping campaigns, you must constantly update the feed with new information. You don't want to have to add a new product to your feed every time one is needed. When errors occur, this becomes time-consuming and frustrating.
There are at least three ways to generate a feed for your Google Merchant Center shop, depending on your requirements, abilities, time, and budget. All three ways are explained below.
#1 Manually Create a Google Shopping Feed in Google Merchant Center
Since Google Merchant Center is now available, you must create a feed after you sign up and input information about your firm. You should begin by exporting products from your Shopify store. Navigate to the Products area and select the products you want to add to your feed. Select Export. CSV files are not supported by Google Merchant Center. This means that you should save your file in TXT, TSV, or XML format.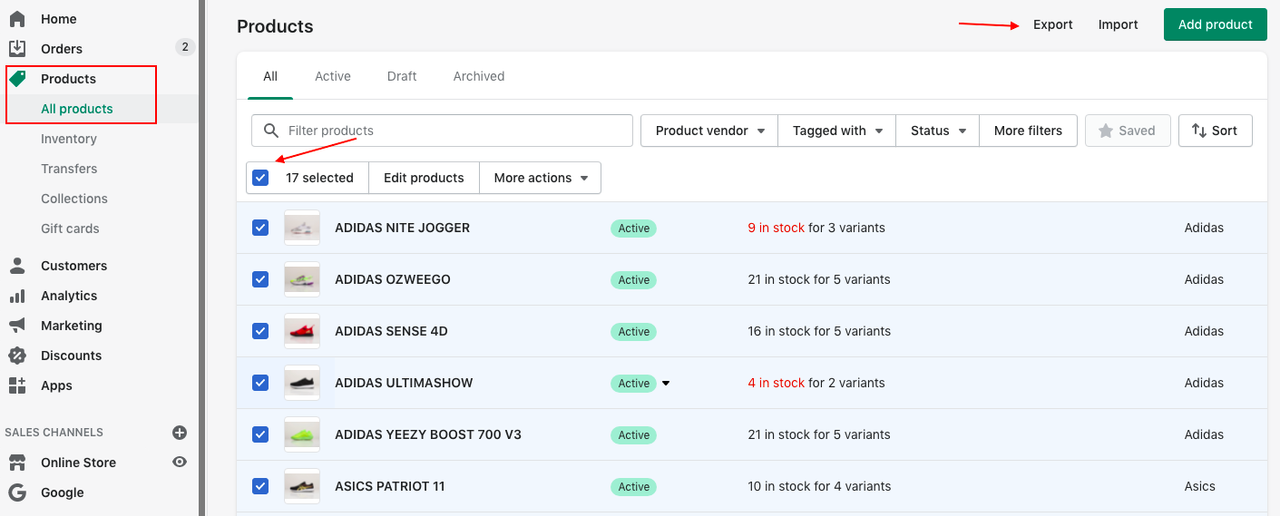 After you export the products, you can go to your Merchant Center account and get started to create a feed.
This will work if you have a modest number of items and variables that rarely need to be updated. If you do not meet these requirements, using a Google Sheet to handle your feed is not a good option. When compared to a regular spreadsheet, a Google Sheet is superior in every regard. You can plan a fetch every day so that you don't have to upload the feed every time you change the spreadsheet. You can also grant team members edit rights to a single document that you control collaboratively.
The advantages of this strategy are that it does not cost you anything more, and you have complete control over whatever you do. The disadvantage is that you will have to do a lot of manual labor. You will also need time to learn how to do things correctly, and you may even have to learn from your own mistakes.
#2 Hire Freelancers to Create Product Feeds for You
With a critical eye, examine your firm as well as your weekly routine. Simply by identifying your most critical "problem areas," you can make some solid guesses. Consider employing a freelance marketer if the process seems to be way too difficult for you. There are numerous websites where you may find contractors to complete the job for you.
Any freelance platform may be used to enter queries, such as Google Merchant Center, Google Shopping Feed, and Shopify Product Feed. Hundreds of experts are available for hire, with hourly charges ranging from $10 to $100.
The benefit of hiring a freelancer is that all you have to do is find and communicate with the contractor on your own. All activities can be completed quickly and efficiently by freelancers with Shopify and Google Ads experience.
On the other hand, you'll have to spend time looking for a reliable and qualified contractor with good recommendations and reasonable prices. Furthermore, creating a Google Merchant Center feed isn't usually a one-time effort; you'll need to update it regularly. This means that each time you require an update, you'll have to pay a freelancer. As a worst-case scenario, the individual may be unable to make last-minute alterations for you.
#3 Use Third-Party Automation App to Create Shopping Feeds
Shopify is a robust eCommerce platform that makes it simple to create and launch an online store. Not only that, it also comes with a slew of useful tools and apps to assist you in achieving your company goals. The Shopify App Store, which offers over 4000 apps built by Shopify and third-party firms, has the majority of these apps available.
These apps (both free and paid) can greatly improve the functionality of your store. Shopify stores of various sizes and industries may get what they need thanks to a large ecosystem. It can be difficult to know which option is best for your company with so many options available.
Various services on the market may be able to complete the process for you in only a few clicks, eliminating the need to hire someone. For example, to create a Google merchant feed and automate your Shopping campaigns, you can install the PromoNavi App.
Here are the key tasks you can handle with the App:
Create a merchant feed based on your Shopify product list and export the feed directly to the Merchant Center.
Keep your feed up-to-date—the app regularly syncs your products with the feed so that the prices in your ads, titles, descriptions, availability, and other attributes are always actual.
Get an almost guaranteed feed approval—PromoNavi's specialists check your feed manually before sending on approval th the Merchant Center.
Automate Search & Shopping campaigns—you just need to take a couple of minutes to set up and launch campaigns.
Keep track of your ads success—due to the dashboards with the key metrics, you don't need to dive into tables and fish out the stats.
The advantage of using a third-party automation service is that even for those with little or no marketing knowledge, professional apps are simple to use. Everything is taken care of by algorithms; all you have to do is follow the setup instructions and press a few buttons.
On the other hand, good products are rarely given out for free. In comparison to in-house marketers or even freelancers, automation programs are quite inexpensive.
Summing Up
You may not have much time as an eCommerce business owner to research marketing specifics, particularly the technical side of things. As a result, we believe that using automated solutions like PromoNavi is an excellent idea. You can always do everything yourself, but if your main concern is saving money, other factors such as time and effort will suffer. It's your choice, and we hope we've made it easier for you to make the right choice.